Businesses in every sector are facing unique challenges. But there is one thing all businesses need to thrive: a skilled workforce.
Growth Works with Skills offers fully funded support to businesses in Cambridgeshire and Peterborough to help you attract and retain the talent you need. From training and upskilling your workforce to apprenticeships and recruitment, our team can offer guidance and practical support to help you tackle your skills challenges.
The first step?
Understanding what your business needs. You can get started today with our free business health check.
Time for a business health check
In under 10 minutes you can review your business performance and understand what your business needs. 
Including:
Recruitment
Training
HR
Performance Management 
Once completed, your free report will provide you with detailed insight and underpin 1-1 discussions with our team of expert Skills and Business Engagement Managers. 
Everyone in our team has a varied background and we pair you up with an expert that best fits your sector. Your dedicated advisor will provide 1:1 support and guidance to help achieve your specific business needs.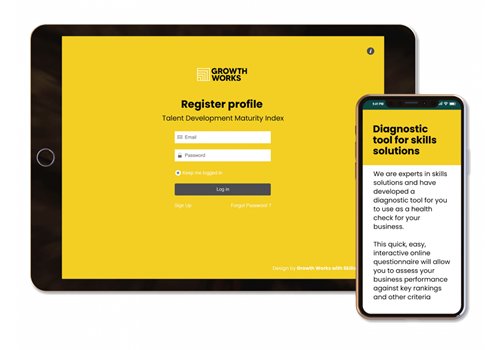 "Going through the TDMI process was an invaluable exercise.  It was easy to use and gave us an instant report that helped give us a clear focus to move the business forward.  I was impressed with its accuracy in identifying our challenges which directly helped us map out our people strategy."
Crooton
"By completing the questionnaire provided on TDMI, it gives the opportunity to review our current business practice and measure up our performances.  We were able to assess and decide precisely what requirements are needed to grow our business.  It also allows us to see areas where we may be weak and how to improve so that we are able to satisfy the needs of both our staff and customers.  For Friends For Needs, TDMI has highlighted areas that we need to focus on such as Recruitment and Staff Training.  Growth Works (Fred) have been very supportive and working alongside us which is what we need at this stage of business growth.  Overall, the experience of having grant funded internship program, the follow up with TDMI and action and planned outputs have been beneficial to our companies."
Friends for Needs